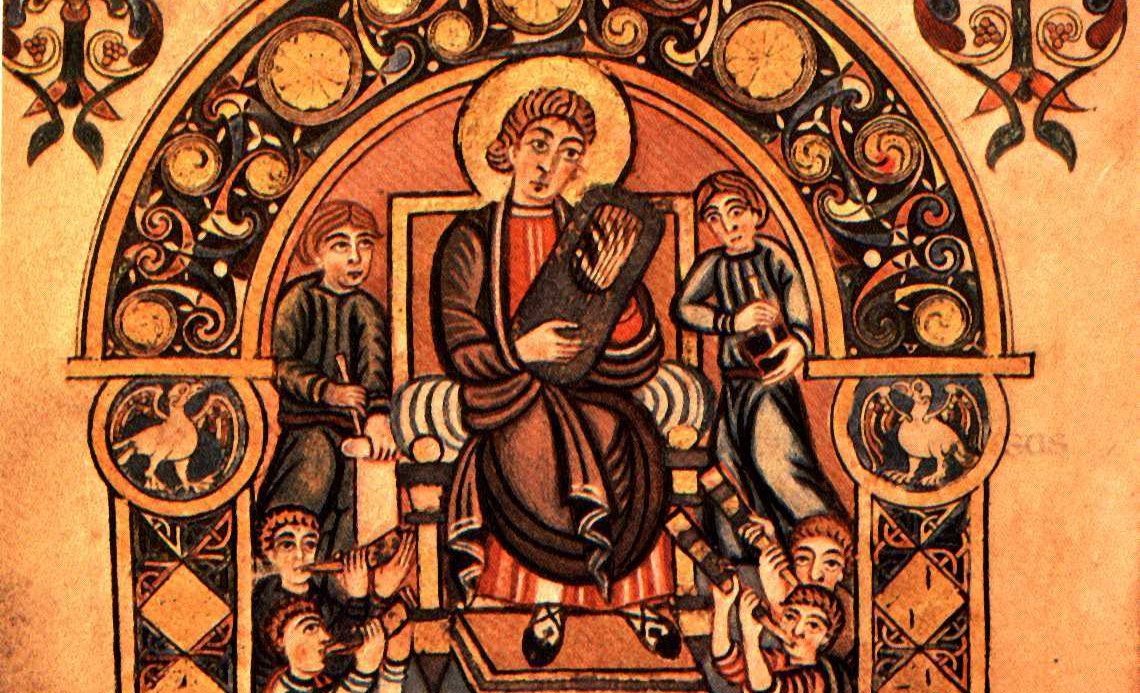 Bible Studies, Messages, Papers
This portrait, called David With His Musicians, is part of an Anglo-Saxon illuminated Book of Psalms called the Vespasian Psalter produced in the mid-8th century in Southern England. It contains an interlinear comments, making it the oldest extant English translation of any portion of the Bible. Photo credit: Wikimedia Commons.
bible studies and messages from the anastasis center: the life and songs of david
Below are small group leader notes, sermons, and exegetical notes on the life of David, as narrated by the Book of Samuel, and the songs of David in the Psalms.
We make the best of modern biblical scholarship, along with early Christian exegesis, relevant and practical.
Small Group Leader Notes on the Life and Songs of David
Outline The Life and Psalms of David
1 Samuel 16 Anointing Doesn't Mean Instant Authority
Psalm 139 Being Known by God
1 Samuel 17 Standing Up and Standing In
Psalm 144 David's Preparation for Battle
1 Samuel 18 - 19 Learning About Mediation By Benefiting From It
Psalm 59 Wronged by Those You Still Love
1 Samuel 20 No Divided Loyalties
1 Samuel 21 - 22 When the Mantle Passes to You
Psalm 142 Lord, Be My Refuge
Psalm 57 When You See Evil Starting to Be Undone
Psalm 34 A Song of God's Deliverance
Psalm 52 Praying for a Betrayer
1 Samuel 23 - 24 Peace at Last?
Psalm 56 A Cry for Deliverance
1 Samuel 25 A Woman to Match the King
2 Samuel 1 The Bittersweet Victory, Leading Lament in Community
2 Samuel David's Mistake #1: Pride and Restoration
Psalm 18 Celebrating Victory
Psalm 68 The Song of the Procession: The Ark at the Sanctuary
2 Samuel 11 - 13 David's Mistake #2: Adultery, Murder, and the Lie
Psalm 51 Longing for a Clean Heart
Psalm 32 Knowing God's Forgiveness
2 Samuel 15 - 17 A House Divided, A Son's Rebellion
Psalm 63 The Heart in Longing
bible studies and messages from the anastasis center